The best quality fish
Fish is an important part of the human food chain as it is rich in vitamins and proteins. It is a healthy and safe food and it is nature in its purest form. It is increasingly more in demand by critical consumers but also increasingly available. Especially when it comes to quality. The Isola Fish brand is synonymous with quality.
Isola Fish and Fishmasters, our top brands, guarantees the best quality fish on the world market. Whether it is sea fish, freshwater fish or farmed fish, fresh or frozen, we know how to catch the best. We know the market and always find the best quality fish for you.
Brands
Kramers' Seafood supplies its products under the Isola Fish and Fishmasters brand names or, at your request, under your own 'private label'. Whatever we deliver and how we deliver it, everything meets the highest and most stringent quality requirements. Only the best is good enough for our customers. The Kramers' Seafood standard is also your standard and that of your customers. Kramers' Seafood, synonymous with quality.
Clean label
Both our natural, bread crumbed, and pre-fried fish products are 'Clean Label'. Clean Label stands for a healthy and fair product:
Free from synthetic and naturally-identical E-numbers
Free from artificial flavour enhancers
Free from preservatives
Free from artificial colouring, flavours and aromas
GMO-free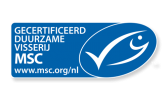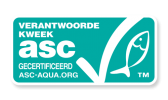 Sustainability
Kramers' Seafood is committed to sustainable developments. There are initiatives to catch North Sea fish in a sustainable way. Kramers' Seafood has access to this 'sustainably caught' fish. We encourage developments to fish in a less environmentally harmful way. Alternative fishing methods ensure that energy consumption is greatly reduced.
The Marine Stewardship Council (MSC) seal is an international seal for well-managed, sustainable fishing. The sustainably-caught fish can be recognised by the MSC logo on our packages.
Innovation
From our experience in various markets, we actively think along with our customers. We will also engage in discussions to think ahead and develop innovative solutions and products to not only be a leading player but also to continue to be one. From our ambition of continuous development and improvement, we want to be and remain an added value for our partners.
Tracking & Tracing
Our internal processes are fully controlled so that we can meet the highest quality standards and requirements. By using an ERP system within our company, we can follow all information and knowledge regarding products, packaging, raw materials and ingredients. This information is used internally to guarantee the processes but can also be accessed externally in various ways from customers and/or suppliers upon request.
Certificates
Because we meet various standards, we are in possession of certificates that can prove this. These certificates can be viewed and downloaded below.